Mental Health Awareness Week
10th May 2021
Hosted by the Mental Health Foundation, Mental Health Awareness Week takes place from 10th -16th May 2021. The theme is this year is 'Nature' – something we will be getting behind all week.
Studies have shown spending time in nature can be very beneficial for mental health and we wholeheartedly support this. You can find out more about why nature is so important as a theme for Mental Health Awareness Week on the Mental Health Foundation website.
Here is a little look at what we're doing at Draper Tools to support our team's mental wellbeing as well as some helpful resources you can reach out to.
Embracing nature 
We've spoken a lot about the therapeutic benefits of gardening and being outside over the past year – and we firmly believe this as a business. The Draper team are embracing the theme with staff receiving a little surprise this week to encourage enjoying some time outside in nature. This is just one of the ways Draper Tools will be marking Mental Health Awareness Week this year.
Prioritising mental health 
Mental health and wellbeing is something we try to prioritise all year, as our MD Graham Wade explained: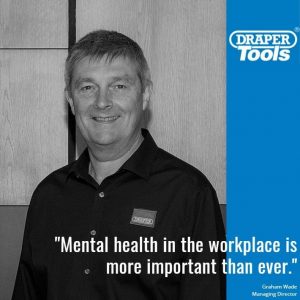 "We have made some big improvements in when it comes to health and wellbeing, thanks to the great work by our HR team. We have regular wellbeing meetings with all teams in the business, both home and abroad to see how people are and offer any support we can. Some people really struggle balancing home and work life, especially if they are working remotely, so we try to do all we can to help and understand people's individual needs. The introduction of mental health first aiders and mental health champions has been a really great step forward. Also having all senior people in our business trained in mental health awareness means we can spot those struggling faster and give them the help and advice they need. Regular wellbeing sessions on fitness, nutrition to name a couple, have been introduced and well received too."
Making a difference  
Taking steps to look after the wellbeing of a team is hugely important and has so many benefits, Graham Wade explained further:
"We really do care about our colleagues, and it really shows. There is such a feeling of positivity about our business with everyone pulling together, even during the times we are living in. Our initiatives to give a bit of flexibility in working hours and hybrid working (a combination of office and home working in future) to those people whose roles can work this way are two really good examples that are making a difference."
Seeking support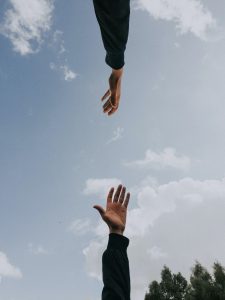 Checking in with yourself and recognising when you or others might be struggling matters more than ever. For anyone who needs it we have rounded up some useful mental health resources for the difficult times we're all facing at the moment.
Help for the construction industry:
If you're in the construction industry, we recommend taking a look at this article from Professional Builder, it's full of useful advice:
https://probuildermag.co.uk/features/essential-mental-health-resources-for-construction-during-coronavirus-outbreak
Band of Builders is another great place to turn if you're in construction and need support: https://www.bandofbuilders.org/
Automotive industry support
For anyone in the automotive industry, we highly recommend reaching out to Ben the automotive charity if you need help. Here's a link to their coronavirus hub, which is particularly useful for anyone affected by the recent difficult times:
https://ben.org.uk/our-services/health-and-wellbeing/coronavirus-help/
Home improvement sector support
For those in the home improvement sector, the Rainy Day Trust is the only charity which exists solely to help people who have worked in the UK's home improvement and enhancement industry. They can help in a range of ways, find out more on their website: https://www.rainydaytrust.org.uk/
And of course, the Mental Health Foundation has some excellent links to resources and help for everyone on its website too – take a look here: https://www.mentalhealth.org.uk/your-mental-health/getting-help