Happy National Allotments Week
10th Aug 2021
National Allotments Week is here (9th – 15th August)! This year the theme is Plotting for the Future, in celebration of the contribution allotments make to a sustainable future.
Here's what we love about allotment life and a few tips to help you get growing...
Seriously satisfying
There really is something so rewarding about growing your own food - and the wellbeing benefits are huge. According to our research, planting seeds is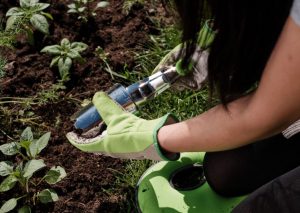 the most satisfying job you can do around the home and garden – it topped our list of the nation's most satisfying home improvement tasks, beating mowing the lawn and using a pressure washer (though these scored highly too). In fact, 73% of homeowners told us they consider gardening to be a nice way to de-stress and to relax. It's hard to argue with the mental wellbeing benefits of gardening and growing your own food, just ask any allotmenteer! You can't beat the feeling of seeing your efforts successfully grow into something you can eat and share with friends and family.
Start small
If your dreams of having an allotment are a long way off, you can still grow your own food with a small garden space or even create a window box to grow herbs or flowers to attract nature, like bees and butterflies. Whatever the size and scale of your plot or patch, you'll still get plenty of joy from it. We recommend a hand trowel as a top tool to get you started, a spade or shovel will be handy for bigger plots and certain plants too.
Mental and physical wellbeing
In addition to the therapeutic benefits of allotment work and gardening, there's also strong evidence to suggest it's very good for your physical wellbeing too. Last year, we looked at DIY and gardening jobs and found they burn a significant amount of calories, around 80,00 a year. In fact, harvesting home grown fruit and vegetables will result in around 3,118 calories being burnt off per year! Our research found that gardening jobs can be a real workout, with homeowners burning off 6,384 kcals while weeding, 3,466 kcals when pruning and 3,852 kcals while watering the garden over the course of a year. So that's another reason to get growing!
Healthy eating never tasted so good
Lastly, homegrown fruit and veg tastes great and encourages you to get creative with recipes, whether it's courgette cake, colourful salads and soups or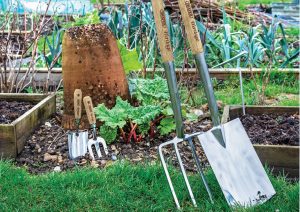 fruit smoothies. Fresh fruit and vegetables are an excellent source of vitamins, minerals and dietary fibre and growing your own is a great way to motivate children (and adults) to get their five-a-day. For keen green-fingered children, Draper Tools offers a Young Gardener range of hand tools to help them grow their own.
Get growing!
So there you have it, the benefits to allotments and growing your own food are undeniable, plus it's great fun too. If you've always wanted to start growing, there's never been a better time to take the plunge. Take a look at the National Allotment Society website for ideas and information on taking part in Allotments Week. If you're ready to start growing or need some extra tools, check out our range of garden essentials.