Leading the charge: New 6V/12V 3 Bank Charger Station
12th May 2021
Want to charge multiple vehicle batteries in the workshop from one charging station? Draper Tools has introduced a new 6V/12V 3 Bank Charger Station, with an RRP under £70, it offers great value, rivalling others on the market.
Smart charger station
This is a high quality, microprocessor controlled 6V/12V bank charger station with capacity to charge and maintain three vehicle batteries simultaneously. It is a fully automatic smart charger, capable of continuously monitoring and reacting to battery condition to prevent overcharging, reverse polarity and short circuits. A handy addition for any garage, it comes fitted with lead connectors and supplied with terminal rings and alligator clips.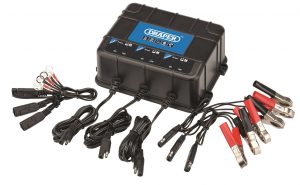 Great value for the garage
With other multi bank chargers on the market normally costing over £100, this latest workshop essential from Draper Tools is a real saving. With one of these set up, you can safely charge different battery sizes and voltages (6 V or 12 V), all at the same time with ease and efficiency. As you'd expect with a smart charger, it will also check the status of all three batteries and ensure they're kept at 95-100%, with the voltage continually monitored. There's no need to carefully keep watch or worry about overcharging, the Draper charger station takes care of each battery individually, allowing you to get on with other jobs.
Making life in the workshop easier
Compatible with all AGM and VRLA flooded batteries, Draper's versatile new 3 Bank Charger Station,  is suitable for range of vehicle batteries including motorbikes, vans and caravans as well as golf buggies and electric fence batteries too. It's an all-round convenient and cost effective device for  keeping multiple batteries in good condition, helping make life in the workshop that little bit easier.
For stockist details and more information, visit the product page on our website.